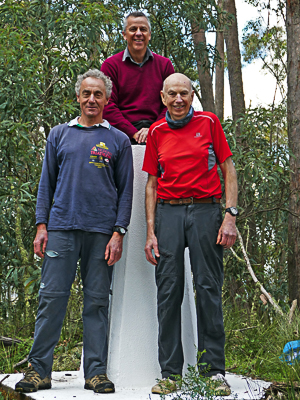 Bush Explorers is a work in progress guide to ultimate bushwalking in the Greater Blue Mountains National Park and the Gardens of Stone National Park. It is a chronicle of challenges, discoveries, adventures, sweat, and research lead by Brian Fox, Michael Keats and Yuri Bolotin. It is also your key to enjoy seldom visited places, and through words and pictures, enjoy what is literally on Sydney's back door step.
The total area covered is extensive, stretching from the Goulburn River, near Singleton in the north to the Nattai River, near Mittagong in the south. The edges of the mountain ranges east and west complete the perimeter boundary.
The catalogue of walks done and documented is over 1,300 and growing. The length of walks range from half day to multiday. The level of challenge ranges from pedestrian walks with stunning views to extreme activities involving tapes (ropes), and exposed climbs.
The books are not just about the incredible walks but also document the bio and geo diversity of the natural environment, the history, the people, and true stories of settlement.
Each of our books stands alone as a complete work. Collectively, the books provide a template for you to design your own walks and experiences.